The mission of the Yale Football Association is to preserve the traditions and storied history of Yale Football, while providing alumni and friends of Yale Football with information about the Football team as well as to create a support network for current student athletes. Through the offering of career networking and job placement, hosting of special events, and the raising of money to support Yale Football, the Association enhances the experience of current Yale student athletes while establishing a strong connection between Yale Football and the greater Yale community.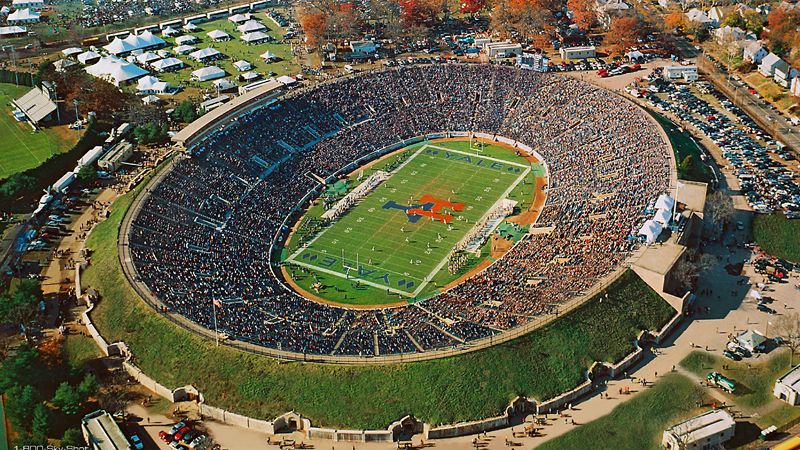 ---
Yale Football Membership Giving Levels & Benefits
The Yale Football Association and Athletic Department encourage all those affiliated with Yale Football to become a member of the Football Association to share in the benefits of this great community and to help continue the tradition of excellence.
BENEFITS BELOW ARE FOR ACCUMULATED ANNUAL GIVING TO ALL FOOTBALL ACCOUNTS (GOLF OUTING, CHAMPIONSHIP BENCHES, FOOTBALL LOCKERS, SENIOR DINNER, RENO ROAD SHOW, SPECIAL PROJECTS) FROM JULY 1, 2018 – JUNE 30, 2019
All Association Members Receive
Exclusive game recap emails from Head Coach
Weekly football newsletters during the season
Name listing in Football News Honor Roll for Bulldog Club and above
Walter Camp Club - $15,000+
Four (4) Kenney Center Passes (premium game seats included)

Four (4) sideline passes for all home games

Monthly phone call from Coach Reno

Walter Camp Club Sideline Pullover

Holiday lunch at Mory's with Coach Reno

Scoreboard and PA recognition during home games

Named VIP season parking spot in H-Lot + additional H-Lot pass

Complimentary Invitation to Yale Football Team Banquet

Team 146 Medallion
Ivy Championship Club - $10,000 - $14,999
Four (4) Kenney Center Passes (premium game seats included)

Two (2) sideline passes for all home games

Monthly phone call from Coach Reno

Scoreboard and PA recognition during home games

Team 146 Medallion

Ivy Championship Club Sideline Under Armour Item

Complimentary Invitation to Yale Football Team Banquet
Head Coaches Club - $7,500 - $9,999
Three (3) Kenney Center Passes

Name and scoreboard recognition during home games, PA announcements

Named VIP season parking spot in H-Lot +

additional H Lot pass

Team 146 Medallion

Road Warrior Hat

Complimentary Invitation to Yale Football Team Banquet
Eli Club - $5,000 - $7,499
Named VIP season parking spot in H-Lot (or choice of parking lot)

Two (2) Kenney Center Passes
Team 146 Medallion

Road Warrior Hat (classes of 2003 and younger)

Complimentary Invitation to Yale Football Team Banquet

Name listing in all Home Game Programs
Coaches Club - $2,500 - $4,999
Road Warrior Hat (classes of 2013 and younger)

Two (2) Kenney Center Passes
Choice of parking in H-Lot, F-Special Lot, or F-Lot

Complimentary Invitation to Yale Football Team Banquet

Name listing in all Home Game Programs
Captains Club - $1,500 - $2,499
Two (2) Kenney Center Passes

Name listing in Yale Athletics Annual Review

Choice of parking in F-Special Lot or F-Lot

Invitation to Yale Football Team Banquet
Players Club - $500 - $1499
Season parking in your choice of F-Special Lot or F-Lot

Name listing in Yale Athletics Annual Review ($1,000+)

Paid access to Kenney Center for all home games except Princeton - $30 per person or $10 for children
Bulldog Club - $250 - $499 / Classes 2013-2017 - $50
Season parking in F-Lot (only included with gifts of $250 - $499)

Paid access to Kenney Center for all home games except Princeton - $30 per person or $10 for children
Yale Football Association Parking Details:
ACCEPTANCE OF ANY SEASON PARKING LOT PASS WILL REDUCE YOUR TAX DEDUCTIBLE GIFT BY $125
ACCEPTANCE OF ANY SINGLE GAME PARKING LOT PASS WILL REDUCE YOUR TAX DEDUCTIBLE GIFT BY $30 PER GAME
PARKING LOT ACCESS LEVELS:
F-Lot - $250 donation
F-Special Lot - $500 donation
H-Lot - $2,500 donation
H-Lot Named VIP Spot - $5,000 donation
---
HOW TO MAKE A GIFT AND JOIN THE ASSOCIATION
BY CHECK:
If you prefer to pay by check, please download and complete this form and mail along with a check to:
Yale Football Association
PO Box 208216
New Haven, CT 06520
---
CLICK HERE FOR THE YALE FOOTBALL ASSOCIATION BOARD OF DIRECTORS